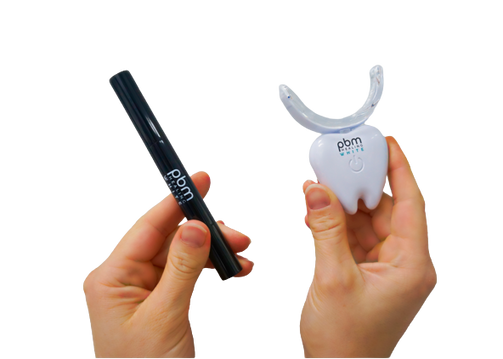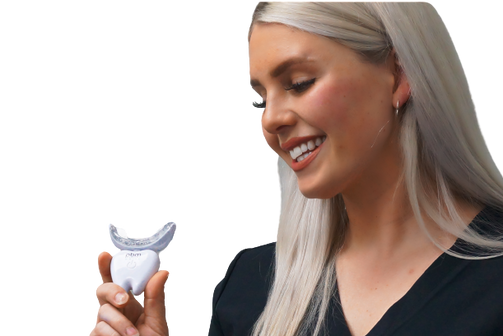 PBM White Kit
PBM White Kit
Regular price

$151.00 USD

Regular price

Sale price

$151.00 USD
PBM White Kit
Bringing you white smiles through the power of light technology!
PBM White embraces the use of light technology to whiten smiles in a less invasive manner, causing no sensitivity!

Photobiomodulation is a therapy that uses red and near-infra red light to improve soft tissue healing, reduce inflammation, and soothe pain.
The PBM White kit includes
Mouthpiece (Universal)

3 Whitening pens (Approx. 3 months of supply)


A shade results chart to easily track your progress

An easy to follow instructional booklet

A charging cable
DIRECTIONS
In just 15 minutes per session, you are on your way to a whiter smile!
For best results, we suggest having your teeth cleaned by a dental hygienist prior to using the PBM White kit.
1- Brush and floss teeth prior to using device.*
2- Apply gel to your upper and lower teeth avoiding lips, gums and cheeks.
(If contact occurs, simply rinse with water)
*More gel will not get you faster results.
3- Insert mouthpiece and bite down gently.
4- Begin the 15 minute treatment by tapping on the power button located on the top of the mouthpiece.
*The light is used to activate the gel quickly without any heat or ultraviolet light, helping to remove stain. It is also used to stimulate cellular regeneration which helps to heal minor mouth irritations (sensitivity!).
5- Once treatment is complete, rinse device under warm water. Rinse mouth with water. Do not eat or drink for 30 minutes. 
Enjoy results!
STORAGE
Rinse and dry well.
Avoid sunlight and store in a cool and dry area.
Whitening pens should be kept in the refrigerator. 
TERMS AND CONDITIONS
Not recommended for pregnant women.
Not suitable for children under the age of 12 years old.
Do not use product if decay is present.
Whitening products will not whiten any existing dental restorations such as fillings, crowns, veneers, or bridges.
If gel contacts eyes, rinse with water immediately. 
To enhance whitening results, a dental cleaning by a Registered Dental Hygienist is recommended.
If  sensitivity occurs, stop treatment.
Gel Pen Ingredients: Carbamide Peroxide/hydrogen peroxide  (less than 1%),  Glycerol, Propylene Glycol, Deionized Water, Carbomer, Carboxymethyl, Poly Vinylpyrrolidone, Sodium Hydroxide, Menthol
Couldn't load pickup availability